---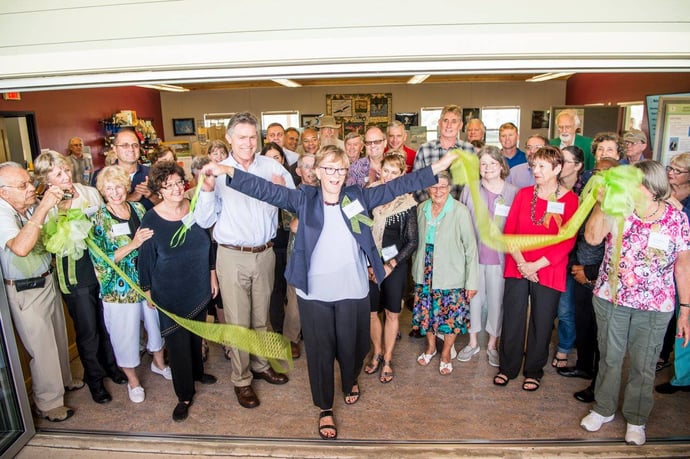 NET ZERO, AND LOVIN' IT!
Hi everybody, and happy 2017! I hope you had a wonderful holiday season, and were able to celebrate the New Year with good people and good times.
Speaking of, I wanted to kick the year off with a little celebration of my own - because we just received report back on our 2016 Gold LEED certified nature center at Audubon - and it turns out that just by existing, our building is contributing to solving our energy crisis!
---
Similar: How to Choose a Solar Power System for Your Home or Business
I would like to use this blog to give you an update on one of our recently completed projects - the Audubon Nature Center located at the celery fields in Sarasota, Florida (see gallery here).
The building has been open for a little more than a year, and we have been gathering data on its electrical use. As I reported earlier, the building is a net zero energy building, which means it creates more electricity than it uses.
So, now we have a full year's worth of data to share, and even a break down of how the power was consumed.
Below is a table which shows the actual annual power demand and actual solar PV generation for the Nature Center. Total demand is 15,107 kWh per year. And, according to a study conducted by the EIA (US Energy Information Administration), that is almost identical to the energy consumption in the average household here in Florida and an average of nine other nearby states.
Download the resource: How to Design a Green Home
The electrical system exports more than 25% power (4,000 kWh) than it consumes (15,000 kWh)! By making significantly more energy than it consumes, it not only offsets 100% of it carbon footprint caused by electrical generation, but it helps others do the same by providing clean, renewable energy to the electrical power grid. So, the building has exceeded net zero performance and is operating as a net positive facility.
| | | |
| --- | --- | --- |
| Total Demand | 15,107 | kWh |
| Lighting | 3,462 | 22.91% |
| HVAC | 6,536 | 43.27% |
| DHW | 309 | 2.04% |
| Refrig | 428 | 2.83% |
| Plug Loads | 4,372 | 28.94% |
| Solar PV | 19,117 | kWh |
| Net Export | 4,010 | kWh |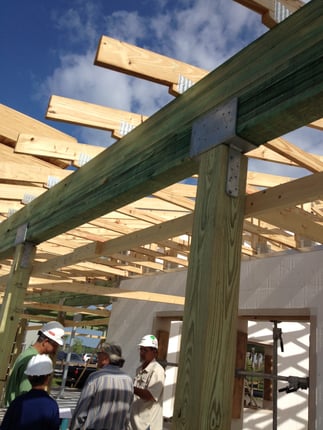 One thing to remember - this is NOT just about solar power. Net Zero Energy starts with the building envelope, and carries on with passive design features that put conservation first. Then, one does not need to create as much of it its own energy to become net zero or net positive.

The building has a highly efficient building envelope including insulated concrete form walls and double glazed insulated low E coded windows.
Plus, the building orientation and wraparound covered porches provide shading 100% of the time. The building has a sealed attic with spray foam insulation on the underside of the roof deck.
The building creates its own energy by using its 11.2 KW's PV solar array mounted on it south facing roof.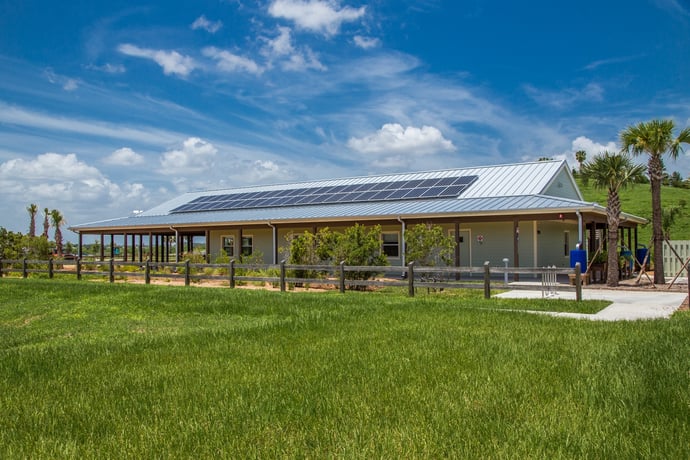 But back to the results, because I find them to be quite fascinating.
It is no surprise that the HVAC electrical use is the largest use in the building. What I find interesting is that the plug load electrical use is the second largest component of energy used in the building.
Plug loads are those things inside the building that the occupants use that demand electricity. It could be the coffee pot, copy machine, printer or a desk lamp or a little tabletop fan- things like that. These are electrical uses that are not well defined in the design phase and they are hard to estimate and difficult to control. Plug loads are one of the main reasons why net zero energy needs to be proven through actual use and not just modeled/predicted.
The Audubon Nature Center received LEED-NC Gold Certification in January of 2016. The high-performance design has actually been exceeding the projected energy performance predicted by the energy modeling. And, in Oct 2016, the project won the prestigious USGBC Florida Gulf Coast Chapter Outstanding LEED for New Construction/Non-Profit Award for the region.
Try also: Does the Cost of Solar Energy Outweigh the Benefits?
---

CONCLUSION:
Forget about Net Zero Energy.... Let's talk about Net Positive energy design! It is possible, even on a modest budget.
Wouldn't it be great if every new building provided more energy than it consumed, so new construction actually reduced the overall power demand in a neighborhood or region instead of increasing the demand? Some people are already doing it, and their making it easier for you and your friends and family to exist and prosper.
What if architecture added resources instead of consuming them? Why don't we make that our goal? If you're interested, I'm happy to walk you through a consultation for your next build to see if sustainability is a worthy investment! Click HERE:
---