---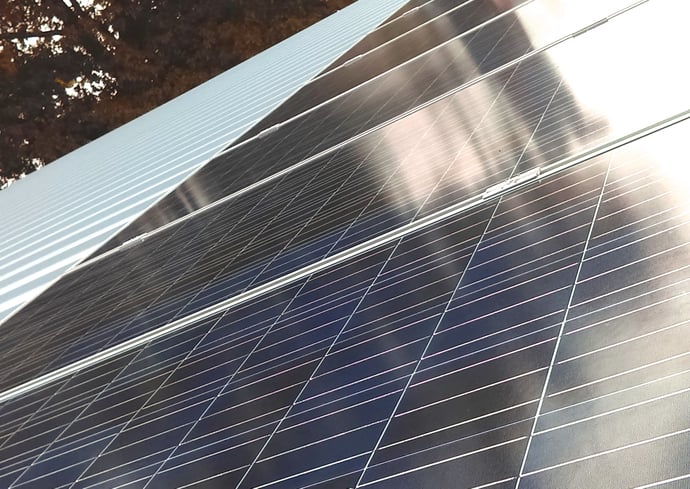 How much does it cost to turn the sun into electricity, and is it worth it for my Florida building?
According to the Solar Energy Industries Association, a typical residential system should lower your electric bills by 25% to 50%. The a verage household pays about $110 a month for electricity, according to the Energy Department, so a solar-panel system should save you between $300 and $600 a year.
Not bad....
Finding such savings and a shorter payback time than I expected when I first started looking into the subject, led me to doing further research on the use of solar panels for residential energy in sunny Florida.
However, doing so opened a can of political worms I was hoping to avoid, because it turns out that our laws are tilting the scales in ways people don't realize.
---
MORE LIKE THIS: How to Choose a Solar Power System for your Home or Business
---
Why squander potential like this?
Sunny Florida has plenty of solar energy potential so why haven't we adopted a more aggressive stance on generating our own clean, affordable power? We're at a great advantage because of where we are, as there are no excessively long payback periods for installation of solar panels in sunny southern states.
Something is holding us back.... But what?
It was interesting to find that Florida ranks third for solar potential according to the Solar Energy Industries Association (SEIA), Florida, but only placed between 14th and 18th (research varies) on the list of largest solar installers. (resource)
The payback period:
If you live in a state where the cost for electricity is in the higher rate tiers, the payback can be as little as 2-4 years. However, it should be noted that the time-frame will vary greatly depending on the size of your system, the cost of your system, and future swings in local electricity costs.
Florida happens to be a state where we are slightly above the average price per kilowatt hour when compared to other states, so it's a little quicker for us.
The Argument against solar
Utility companies have been saying residential solar systems cost them money because solar owners pay less in monthly electricity bills, yet expect their utility to step in and deliver power whenever their system doesn't, which puts unexpected stress on their systems.
Solar advocates, on the other hand, say residential solar systems save utilities money by taking pressure off the electrical grid.
So, who do we listen to, and who are our elected officials supporting? And, is it any surprise that those making money off of our dependence on non-renewable energy sources are advocating against solar?
Not to me, but I kept digging anyway.


How to reduce up-front costs
Although payback for installing solar panels is becoming more affordable all the time, small systems still remain too expensive for most homeowners and businesses. Cheap electricity from fossil fuels and nuclear power gives property owners less reason to buy a system.
In some states, solar companies lease panels to consumers so they avoid the up-front costs of the panels.
And, actually, I found data that covered four-fifths of the United State's solar capacity in 2014, and it stated that almost two-thirds of residential solar systems were owned by a third-party solar company. (resource)
HOW POLICY IS TILTING THE SCALES:
Surprisingly, Florida hasn't opened the door to these kinds of third-party ownership arrangements, which means we don't have the same kind of access to clean energy as the states that do.
We actually have legislation that directly opposes it. Under the Florida Constitution, only utilities can sell directly to consumers.
In addition to not having access directly because of the financial implications, it also means that landlords of commercial and residential buildings who have installed solar panels on the roofs of their properties cannot sell the electricity to their tenants.
It's clear to me that our current regulations are hampering deployment of solar in Florida, which is incredibly frustrating for somebody who has dedicated their career to implementing sustainable design.
Think about it... How many people do you know who are renting their homes? And do you realize how many commercial buildings there are that lease space to their tennants (hint: it's pretty much ALL of them)?
What else our state is
not

doing

Florida Power and Light (FPL) offers rebates to residential customers who implement certain energy efficiency improvements in eligible homes. There are HVAC rebates and incentives for upgrading ceiling or roof insulation, or installing a reflective roof.

Strangely, though, there are no state rebates for solar panels in Florida.

There are, however, Federal Income Tax Credits for Energy Efficiency that includes solar generated energy. Tax credits for Solar Energy Systems are available at 30% through December 31, 2019.

If you have a pool, however...
That takes us to Plan B: Solar panels for swimming pools. There are approximately 800,000 swimming pools (including above-ground) in Florida, and most of them must be heated during the cooler months to maintain comfortable swimming conditions.
An unheated pool will stay generally at about the average outdoor temperature, which may be in the 50's during the winter months here in Sarasota. For most people comfortable pool water temperatures are 78°F to 82°F in spring and fall and 76°F to 78°F in winter.
Average yearly cost for heating a residential pool in Florida is $1,450 using electrical resistance, $500 using an electric heat pump, and $580 using natural gas. Liquid propane would cost the same as electrical resistance. (resource)
A typical solar heating system costs from $2,000 to $4,000 installed. Costs vary based upon the ease of installation, type of financing, location of pool in north or south, length of pool season desired and building code requirements.
The good news, compared with average fossil fuel heating, a solar pool heater offers a favorable payback of 1.5 to 7 years. In addition, the solar pool heating industry in Florida is mature. It has numerous distributors and contractors and a track-record of over 20 years of experience, and with proper care a system can last you 10 to 15 years.
---
Schedule a free sustainable design consultation
---

CONCLUSION:
Change never comes easy, even when it means saving our species from extinction. But we must take steps that lead us to total sustainability, or we won't be able to reverse the calamities caused by our dependence on limited and polluting energy sources.
I say that we should make some noise and make these issues known to our elected officials, so they know we're serious about enacting change that will benefit ALL of us.
Meanwhile, please enjoy a relaxing dip in your solar powered pool!
Interested in learning more about green home design? Check out this handy ebook my firm published about why it's an absolute MUST:
---