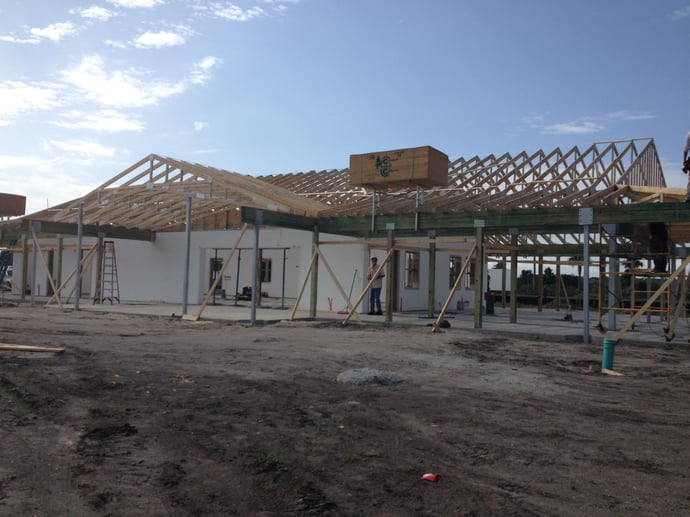 "What is a good process for selecting a general contractor?" - It's something we hear a lot
It's also one of the most important questions you can and should be asking about your upcoming build, because not every contractor is the same. They can make your project if they share your vision and goals, or break it if they are rowing in a different direction or don't have the right kind of experience.
So, I thought I would help you out by sharing four important steps to the GC selection process. Keep in mind as you read these how important building the right foundation is to any kind of successful build.
---
1: When to hire
Timing is really important when it comes to hiring your contractor, because you want them involved early in the design process, as soon as you know you have a viable project. They should actually be your second stop after hiring your design team.
Why hire so early? Well, it's important to have the contractor on board to accomplish the integrated design process. It's also important to get the entire project team together early so everyone can work together to achieve optimum results.
Many smart heads are better than one, after all, and there is a big advantage to the project when the people who are going to build it participate in the design process and understand why the design is the way it is and why the decision to have it that way was reached.
2: Go for experience 1st, not low bid
Select your contractor based on their experience, not by low bid. Remember, it is early in the process and the project design is not fully developed. You don't want to hire a GC based on a lower price quoted up front before they understand the details of the project. That's just askin' for trouble.
3: Ask for help & get to the fees
Ask your design team and others you trust for names of good contractors. Interview about 3-4 GCs that seem like a good fit for your project. (If you invite too many contractors they will become less interested.
It is important that each gets a fair chance to compete for the work. A 1:3 or 1:4 chance is more appealing than a 1:10 chance if you were to invite that many contractors for interviews).
Talk to them about their related experience, how they structure and charge for the pre-construction services phase, how they do cost estimating early in the process, how they approach a project like yours, who will be working on the project from their company, what their insurance coverage is, and what they anticipate for overhead costs (referred to as general conditions).
Make sure you also ask what their fee % will be. (Their fee is usually a % of the total construction contract or it could be structured as a cost plus arrangement). They can estimate their fee based on a rough estimate of the total cost of construction, and the complexity of the project.
4: Get a pre-construction agreement
Once you pick your General contractor, you'll need to enter into a pre-construction agreement with them. They will charge you a fee for this service. If things work out the contractor will often credit back some or all of the fee when you sign the agreement to have them do the actual construction.
If for some reason the project does not go ahead, the contractor is paid for the work they performed and the process is equitable to everyone. Should you decide to proceed with the project, but not with the General Contractor that did the pre-construction services, again the contractor is paid for the work they performed and the process is equitable to everyone. This is why you sign a pre-construction agreement early in the process, but not the contract for the full and complete construction.
Hiring your General Contractor to do Pre-construction Services during the design process makes those who will actually build the project part of the project development team as well. They will typically provide cost estimating, and assist the owner and design team in understanding cost implications of various design decisions. They can develop the construction schedule in conjunction with the estimating. They can even bring in key subs, such HVAC contractors to evaluate system options and approaches.
WHY YOUR WALLET WILL THANK YOU:
Many initially think this approach leads to a lack of competition in the bidding process, and ultimately to higher costs. Using this approach, however, you are still able to get competitive bids. Your general contractor will bid out all the sub-contracts to multiple sub-contractors for each trade needed on the job.
Often, the GC will share all the sub-contractor bids with you and you may decide together who to use. Remember, you are really trying to get the most value for the price of the work. You are not looking for the cheapest price if the services performed are substandard in quality or unreliable.
---

CONCLUSION:
So, hire your contractor early in the project development, base your decision on quality and experience over low-bid, get input from your design team, use the pre-construction services agreement scope, and utilize your contractor's knowledge and expertise in building projects like yours.
These early decisions make a huge difference in the end, both in the success of the project and your ability to control costs throughout the build process.
---