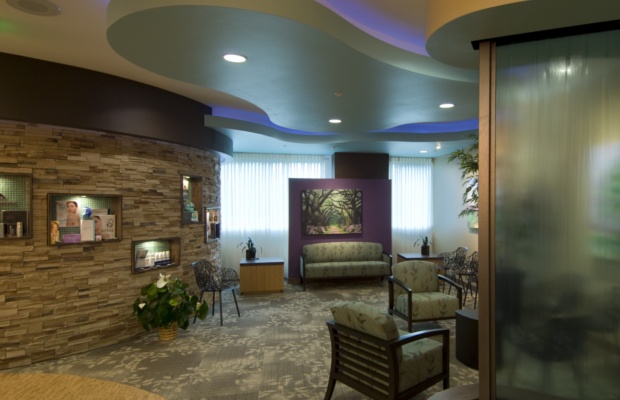 Biophilic design? What's that?
No, it's not something you need to see the doctor for – but it MAY actually be the cure to what ails your lackluster green building design. As much as you may care about incorporating energy saving ideas into your building - whether it be for your love of nature or saving money, integrating nature will help you truly embrace your focus on going green.
We as humans are connected to nature and prefer to be immersed in it, so by incorporating elements of into our structures, we stand to reap all sorts of benefits.
---
Before I go into how you can take your green design concept to the next level with biophilia, I want to give credit where credit is due, because although these ideas are woven into the fabric of Carlson, it was a session at Green Build 2015 that inspired me to write this article..
Bill Browning from Terrapin Bright Green was the host of the presentation titled, "Biophilic Design: Applications for Culture & Climate," while Elysa Hammond of Clif Bar & Company, and Nicole Isle of Glumac Engineering each presented related projects they were involved with.
To help you understand where biophilia can be found, here are the 14 elements that they identified, broken down into 3 categories:
Nature IN the space
Visual Connection to Nature
Non-Visual Connection with nature
Non-rhythmic sensory Stimuli
Access to Thermal & Airflow variability
Presence of water
Dynamic & diffuse light
Connection with Natural Systems
Natural Analogues
Biomorphic Forms & Patterns
Material connection with nature
Complexity & Order
Nature OF the space
Prospect- able to see all the space, understand the environment, and see any danger
Refuge- protected space to call your own
Mystery- a promise of more information being revealed if pone proceeds
Risk/Peril- a perceived threat or risk, accompanied by a safeguard
Now, lets talk about some REAL benefits!
---
EXAMPLES OF BIOPHILIC DESIGNS BY CARLSON STUDIO ARCHITECTURE:
Wellness Community - see showcase gallery
Medical office - see showcase gallery
Residence in construction - see showcase gallery
---
Biophilia sets the tone
Biophilic design gives us a framework to consciously integrate nature into our design work. Embracing the climate and culture of a place makes our solutions more appropriate and better for the people that use the buildings. People feel better, are more stimulated, more comfortable, and happier in places that they love.
Nature has Presence
Take a minute, and try to think beyond the attributes of water that we focus on day in and day out. Think beyond how it's wet and quenches our thirst… and focus more on the actual presence of water.
We can see it, feel it, and taste it, but we can also hear it. In fact, we LOVE to hear it. It adds noise to our environments, but actually makes us think it's quieter than having no sound at all.
Imagine water in a pool, fountain, lake, pond, or rapidly moving river - a waterfall, or a trickle of a brook over a rocky stream bed. Or, have you ever been to a spa where they have a small fountain with trickling water?
It flat out makes us feel better
Now think about the presence of natural daylighting in a similar way. How does it make you feel? From the impact of the light itself on our mood, to the warmth of the sun shining in and warming that floor on a cold winter's day.
We all get these concepts, whether we realize it or not. We enjoy nature and being in nature. We feel better. We are rejuvenated. Our minds are clearer. We do our best thinking while we are in nature, whether on a beach in Florida, a birch forest in Minnesota, or walking a mountain trail in the Olympic Peninsula near Seattle.
Why it's so important
Living in our modern world, we spend about 90% of our time indoors. We need to make the most of that time by inviting nature inside, or by connecting to nature beyond the walls of the buildings that we live or work in. Your architect should be able to consciously recognize these opportunities and take full advantage of them to benefit those who inhabit the spaces they design.
In other words, they should blur the lines between indoors & outdoors.
Getting started
First, we begin with defining the goals we are trying to achieve. To do this, think of the 14 patterns as a palette of options to select from. Not all 14 patterns may apply to your goals, but many very well likely will. They could include things like stress reduction, cognitive development, emotion/mood/preference, healing and regeneration, increased productivity, etc.
They will change based on your culture or climate, or both. In most climates there is a practical necessity to create a physical separation between the inside and the outside. In the hot humid climates in the Southeastern US, we desire to control temperature and high humidity to keep moisture from damaging the interior of the structures. In colder, northern climates the need to create heat inside and keep it there, and to keep the cold out is equally important to controlling humidity in the sub-tropical south. The techniques differ, but the concept is the same.
---

CONCLUSION:
Biophilic design is a great way to embrace nature in the places where we spend the large majority of our lives. The benefits are numerous, and since you're already thinking in terms of sustainability, it's good to think about applying those concepts to your own personal well-being.
Interested in a free consultation for your next green design project?
Check out our ebook on designing a green residential project HERE:
---