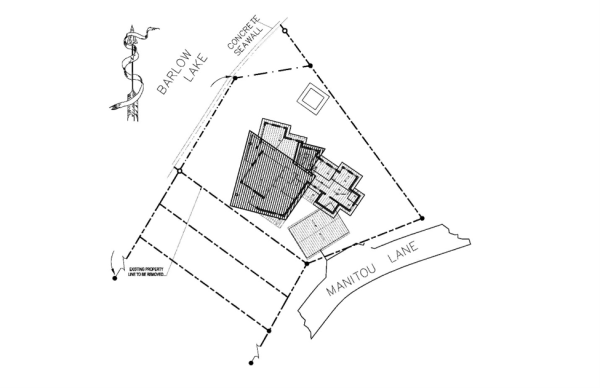 Part 2 Of Designing & Building A LEED Home
This is the second installment detailing the new LEED certified house we are currently designing.
This particular LEED certified home is on a small lake in Southwest Michigan. The lake sits to the NW, so the primary views are to the NW. The lot itself is rotated 35 degrees west of due south. This LEED home wants to use good passive design features and roof mounted solar thermal and solar PV systems. The key passive LEED design feature is to rotate the main roof plan 20 degrees to the south, so that the main roof is only 15 degrees from due south facing. This passive feature helps to block the summer sun, but lets the winter sun penetrate deep into the home for passive solar heat gain and is a critical element of this specific LEED architecture. The main roof also provide a great place to put all the active systems (the PV and solar thermal). See the roof plan below. The darker roof area slope is 15 degrees from south. This passive design feature, while being a key component to the energy conservation strategy, also creates a dynamic and interesting aesthetic feature of the home.
Read More